UA 2020 Silbermann-Haus
Gottfried-Silbermann-Gesellschaft e.V.
Schlossplatz 6
09599 Freiberg
Die Klangvielfalt einer Orgel wird durch ihre Register bestimmt. Anzahl und Form der Pfeifen bestimmen den Klangreichtum. Um dem Museumsbesucher ein Beispiel zu geben, wie man durch Registrierung einer Orgel den Klang eines Musikstückes beeinflussen kann, entwickelte Albrecht Koch die Grundidee zu einem Objekt, welches Musikstücke mit verschiedenen Registrierungen über Lautsprecher abspielen soll. Nach vielen Gesprächen schlug ich noch eine Erweiterung vor. Die Register, die normalerweise nur ein- und abgeschaltet werden, sollen nun auch kontinuierlich in der Lautstärke geregelt werden können. Je nachdem wie weit man den Registerzug aus dem Gehäuse zieht, verändert sich auch die Intensität des Klanges. Das heißt, ungeahnte und in der Realität nie vorkommende Orgelklänge können erzeugt werden indem man z.B. ein von Natur aus lautes Register leise stellt und ein leises Register laut. Ebenso kann man dadurch einen normalerweise sehr dominanten Klang, z.B. ein Zungenregister, nun auch als leise Begleitung zu einem sanfteren Grundklang hinzufügen, usw..
Die Besucher können ihre eigene Kreativität nutzen und ganz neue Klangmöglichkeiten finden.
Mit einer Lichtinstallation, die im Sichtkasten das jeweilige Registerfoto ja nach aktueller Spiellautstärke beleuchtet, möchte ich den für Publikum ansonsten nicht zugänglichen Innenbereich der Orgel im Freiberger Dom sichtbar machen.
Es wurden zwei Orgelstücke 13 mal mit jedem Registerklang einzeln von Clemens Lucke an der Großen Orgel von Gottfried Silbermann 1711/14 eingespielt.
The variety of sounds of an organ is determined by its registers. The number and shape of the pipes determine the richness of the sound. To give the museum visitor an example how to influence the sound of a piece of music by registering an organ, Albrecht Koch developed the basic idea for an object which should play pieces of music with different registrations. After many discussions I suggested an extension. The registers that normally only switched on and off, it should now also be possible to regulate the volume continuously. The intensity of the tone changes depending on how far you pull the register slide out of the case. This means that unexpected organ sounds that never occur in reality can be produced by, for example, turning down a naturally loud register and turning a soft register loud. You can also use it to create a normally very dominant sound, e.g. a Reed register, now also as a gentle accompaniment to a softer root note, etc.
Visitors can use their own creativity and find completely new sound possibilities.
The respective registers are made visible with a light installation. Depending on the current volume, the respective register photo in the field of view becomes lighter or darker. This gives the audience an insight into the inner workings of the organ, which is normally not accessible to visitors.
Two organ pieces were recorded 13 times with each register sound individually by Clemens Lucke on Gottfried Silbermann's large organ in 1711/14.
Wo sind welche Register?
Where are which registers?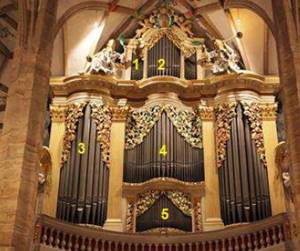 1+2 Oberwerk Principal 8F
3 Pedal Principal 16F
4 Hauptwerk Principal 8F
5 Brustwerk Principal 4F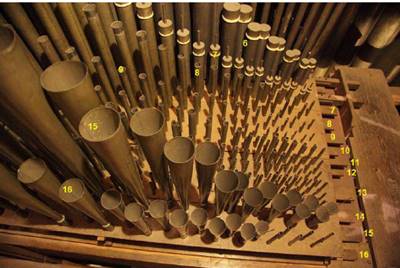 Hauptwerk von oben nach unten
Hauptwerk(Main) from top to bottom
6 Bordun 16F
7 Rohrfl 8F
8 Octava 4F
9 Quinta 3F
10 Octava 2F
11 Tertia
12 Mixtur 4f
13 Cymbeln 3f
15 Trompete 8F
16 Clairon 4F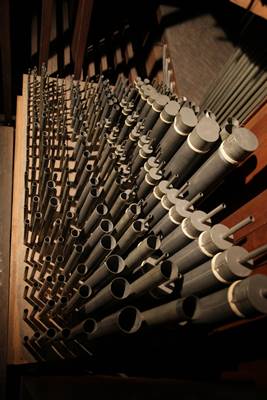 Brustwerk von rechts nach links
Brustwerk(Breast) from right to left
Gedackt 8F
(Principal 4 F im Prospekt)
Rohrflöte 4F
Nassat
Octava 2F
Tertia
Quinta 1 1/2 F.
Sufffl. 1F
Mixtur (3fach)
Register auf Fotos hervorheben
Highlight registers on photos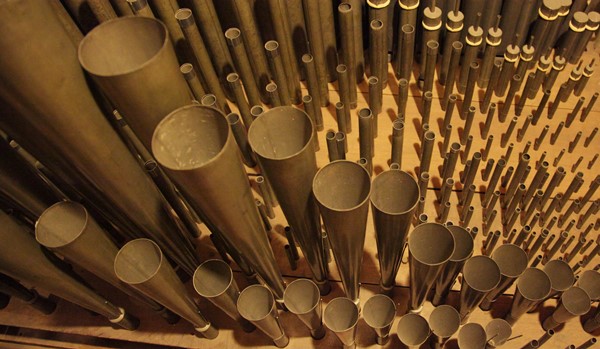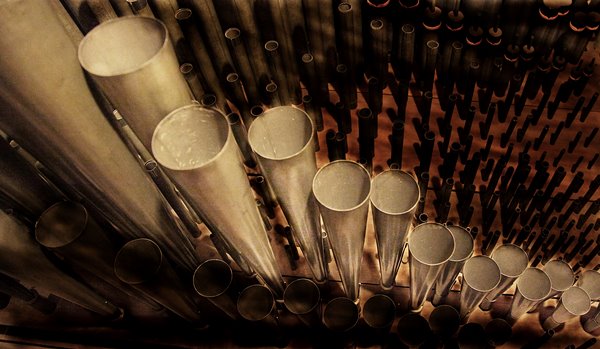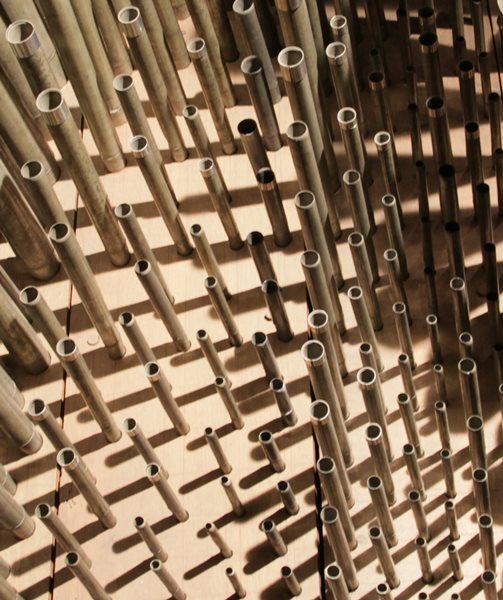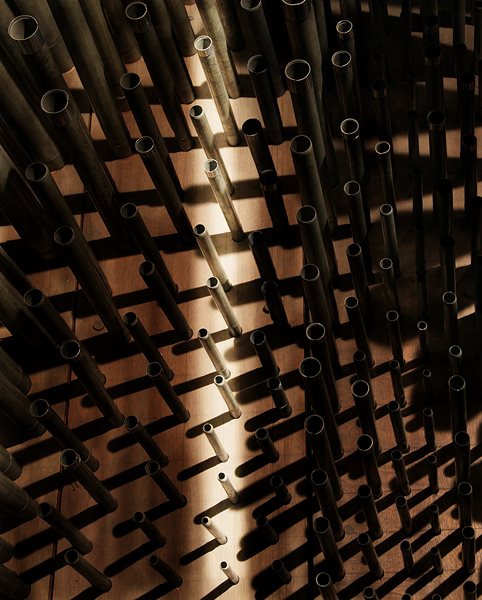 Arbeitsfotos aus der Werkstatt von Constantin Lindner
Working photos from Constantin Lindner's workshop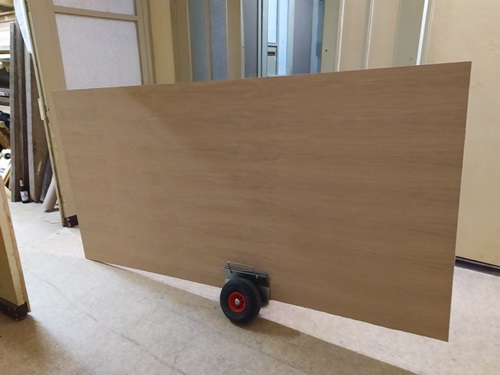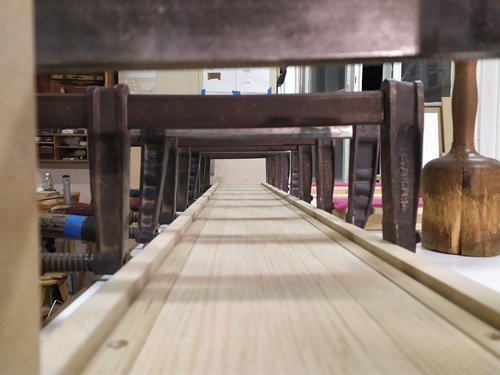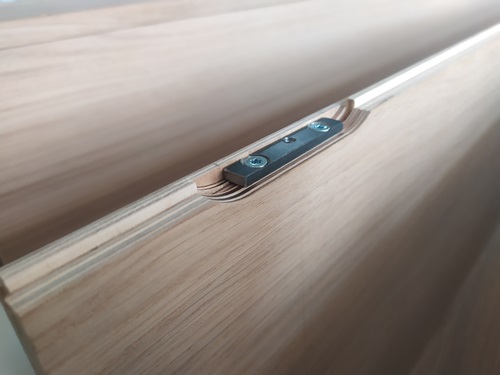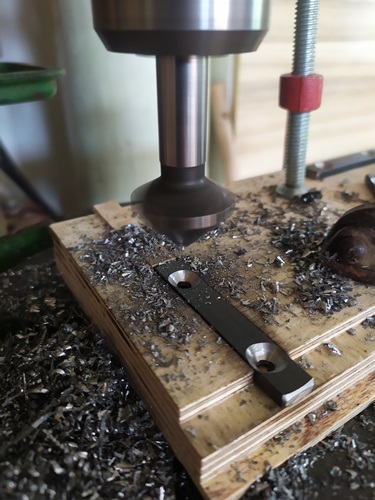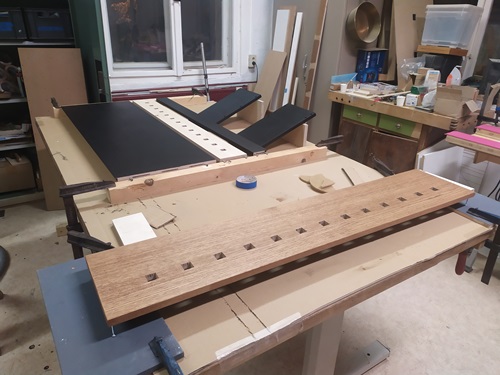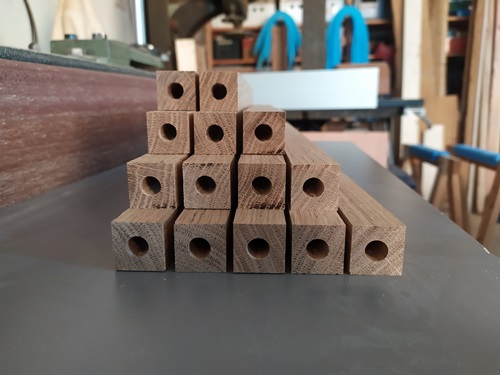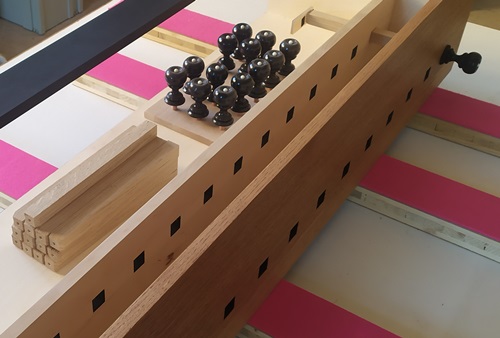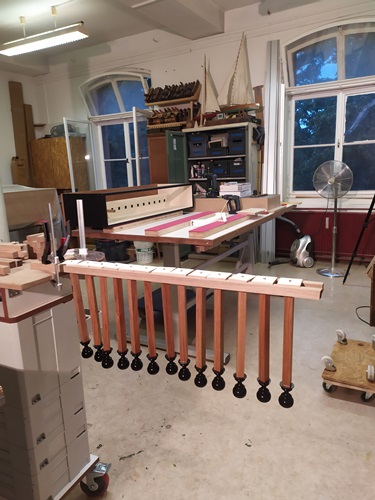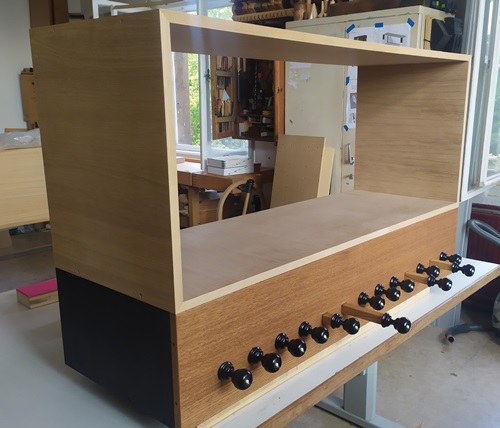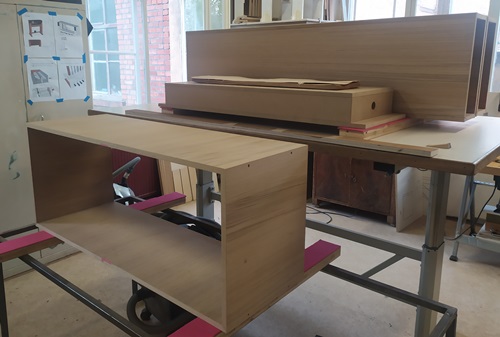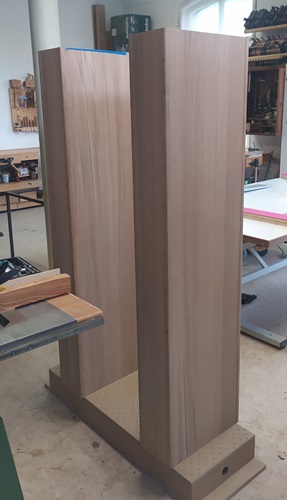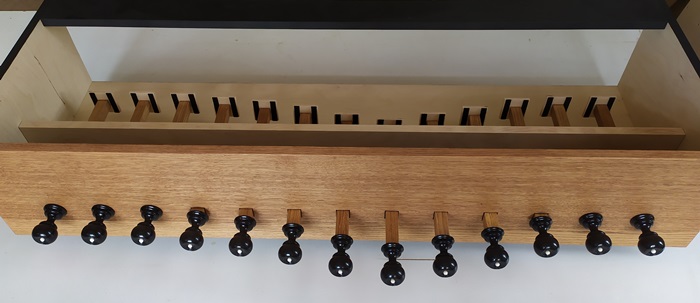 Arbeitsfotos Stache - Werkstatt
Working photos Stache - workshop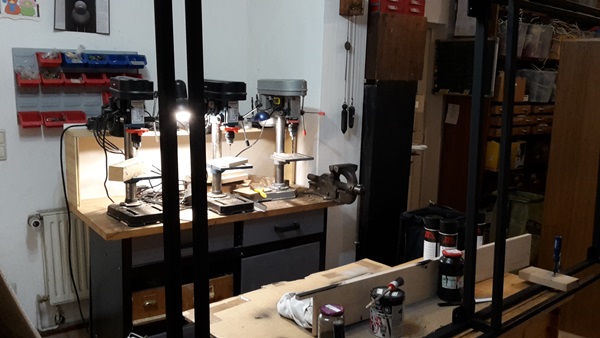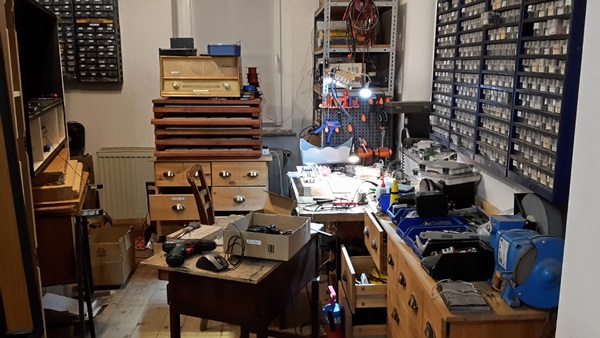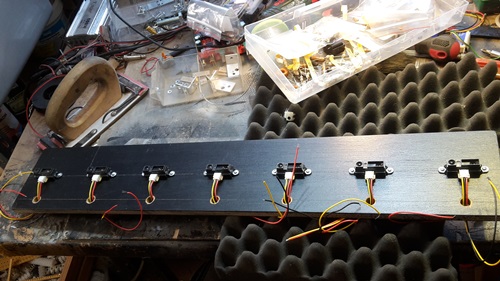 Distanzsensoren messen den Abstand der Registerzüge bis zum Anschlag
Distance sensors measure the distance between the register pulls up to the stop

Die einzelnen Kammern verhindern die gegenseitige Beeinflussung der Sensoren. Lichtstreuungen und nicht gewollte Reflexionen werden vermindert.
The individual chambers prevent the sensors from influencing each other. Light scattering and unwanted reflections are reduced.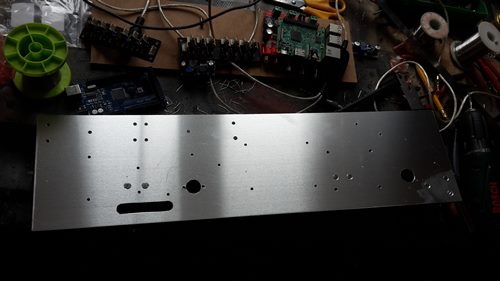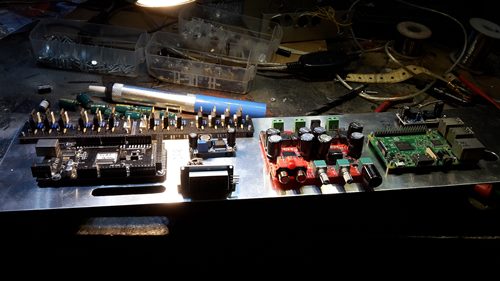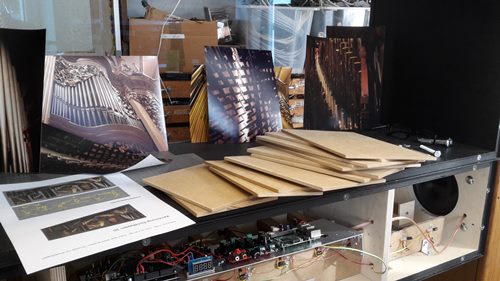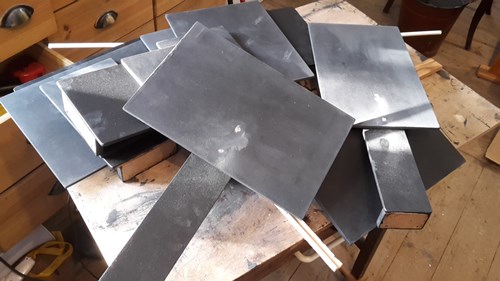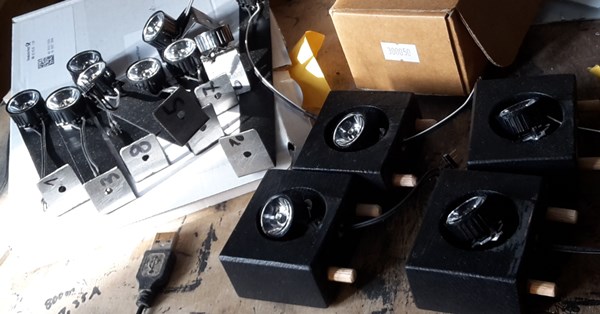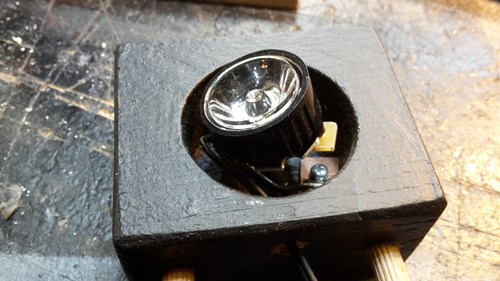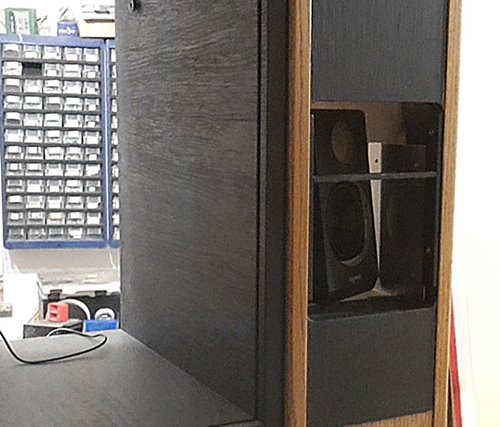 Die hohen Töne werden indirekt abgestrahlt. Der Schall wird an einer Aluminiumplatte reflektiert und kommt so direkt zum "Orgelspieler".
The high tones are radiated indirectly. The sound is reflected on an aluminum plate and thus comes directly to the "organ player".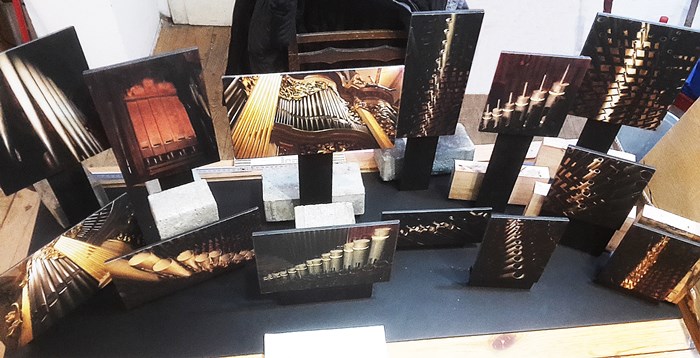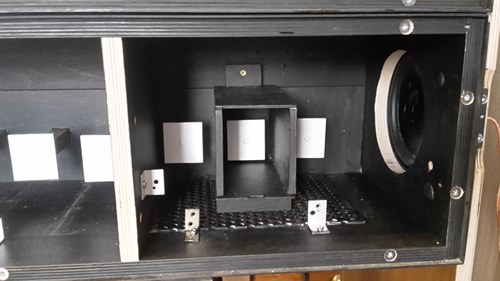 Der Basslautsprecher hat seinen Rückraum im Fuß. Der Bassklang wird durch das Lochgitter nach unten abgestrahlt und verteilt sich im Raum. Dadurch sieht man von außen keinen Lautsprecher.
The bass speaker has its rear space in the foot. The bass sound is radiated downwards through the perforated grille and is distributed throughout the room. As a result, no loudspeaker can be seen from the outside.