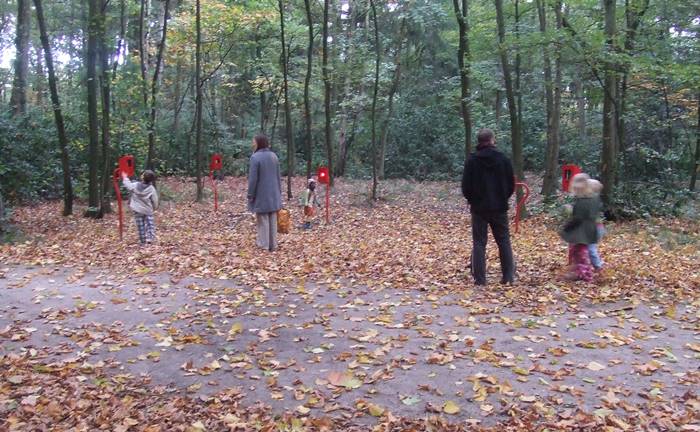 UA 2006 Dauerinstallation Neerpelt - Impulszentrum für Musik

Rote Kästen ragen wie Pflanzen aus dem Boden und es scheint so, als könnten sie sich verständigen. Sobald sich jemand den Objekten annähert und sich mit diesen beschäftigt, werden Zufallszahlen gesammelt mit denen Verhaltensmuster verändert werden können.
Mit einigen Objekten kann man seine Stimme oder Geräusche der Umgebung aufnehmen. Das aufgenommene Material wird dann in verschiedenen Tonhöhen und Längen abgespielt.
Andere Objekte benutzen Orchesterklänge, die je nach Annäherung variieren.
Sobald man mit einem der Kästen in Verbindung getreten ist und diesen danach wieder in Ruhe lässt, werden 20 kurze musikalische Sequenzen nach einem Zufallsprinzip abgespielt. Diese werden durch Nummern (rückwärts zählend) auf dem Zahlendisplay angezeigt. Verwendet wird dabei das jeweilig aufgenomme oder vorher benutzte akustische Material. Somit kann man mehrere Objekte zur gleichen Zeit spielen lassen.
Premiere 2006 - permanent installation in Neerpelt - Impulse center for music

Red boxes stick out of the ground like plants and it seems they can communicate. As soon as someone approaches and interacts with the objects, random numbers are collected that can be used to change behavioral patterns.
Some objects allow you to record your voice or the sounds of the environment. The recorded material is then played back at different pitches and lengths.
Other objects use orchestral sounds that vary depending on the distance from the object.
As soon as you have contacted one of the boxes and then leave it alone again, 20 short musical sequences are played at random. These are indicated by numbers (counting backwards) on the number display. These are indicated by numbers (counting backwards) on the number display. So you can let several objects play at the same time.