Senderwahlregler bewegen und lauschen

WEST
Move the station selector and listen

WEST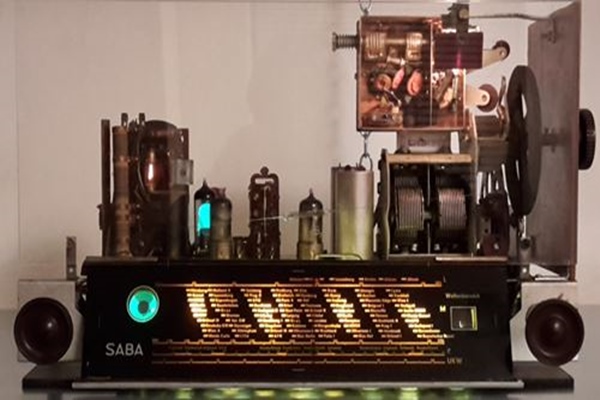 UA 2017 Wien

Ein Radio Chassis ist umgebaut. Man kann die Regler drehen. Das Radio sagt die Namen der Sender an, die auf der Scheibe zu lesen sind. Man hört Sprache in verschiedenen Stimmlagen und Klängen. Unterschieden wird zwischen Sendern aus der damaligen DDR und dem damaligen Westdeutschland.
Weitere Regler lassen Originalgeräusche alter Röhrenradios erklingen.
Das Innere des Radios sieht interessanter aus als die Ansicht von außen. Man sieht, wie sich Teile bewegen, Seilzüge die Sendermarkierung bewegt, wie sich ein Schwungrad dreht und wie Lampen leuchten. Einige alte Teile werden noch benutzt. So z.B. der Drehkondensator.
UA 2017 Wien

A new technology was installed in an old tube radio chassis. You can turn the knobs. The radio announces the names of the stations that are read on the glass pane. You can hear speech in different pitches and with sound effects. There are differences between stations from the former GDR and the former West Germany.
With further knobs you can regulate original sounds of old tube radios.
The inside of the radio looks more interesting than the outside view. You can see how individual parts move. Ropes move the transmitter marker, a flywheel spins, lamps to shine. Some old parts are still used. For example the rotary capacitor.