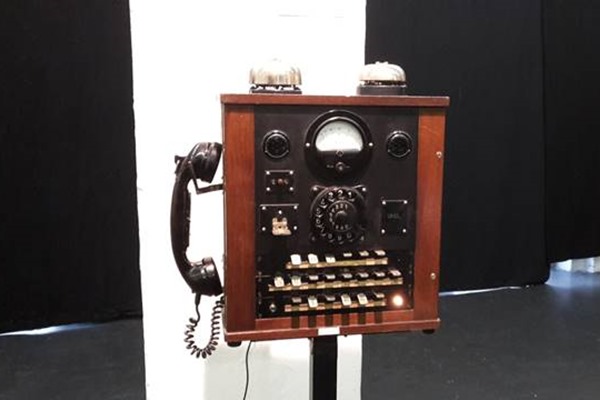 Ein alter Telefonprüfschrank wurde als Musikobjekt umfunktioniert. Die Tastenbezeichnungen beschreiben u.a. die Prüfleitungen. Z.B. La = Leitung außen, Li = Leitung innen, Sa = Sicherung a. Das Objekt arbeitet wie ein Sequenzer mit drei unabhängigen Ebenen. Zu hören sind die Buchstaben als Silben, gesprochen mit verschiedenen Stimmen und Stimmeffekten. Die Wählscheibe macht Schlagzeuggeräusche. Beim Abnehmen des Höreres erklingen fremdländische Stimmen.
Ein anderes Telefonobjekt ist
hier
zu sehen - unter Telefonbeat. Atonor.
Fotos ES = E.Stache
An old telephone test cabinet is converted into a music object. The names of the old buttons describe the connection between the lines to be tested. For example: La = line outside, Li = line inside, Sa = fuse "a". The object works like a sequencer with three independent groups. You can hear the letters, spoken with different voices and voice effects. The dial makes drum sounds. If you pick up the phone you will hear sounds of foreign voices .
Another telephone object can be seen
here.
find "Telefonbeat" - Atonor
Photos ES = E.Stache